About Us
Susan Donnan is the founder of Metavolution, a consulting and coaching company dedicated to partnering with clients to implement transformational and sustainable change. She is committed to her clients' success as measured by meeting their business objectives and achieving their visions.
Susan is a change leader and a change facilitator with over 20 years of experience in managing complex change in large organisations often involving reengineering, organisation redesign, and technology implementation. She consults cross-culturally in global and trans-national settings. She has worked in Eastern Europe, Western Europe, and North America. Her clients include CAC40, FTSE100, and S&P/TSX60 companies in different industry sectors including aerospace, fast-moving consumer goods, and transportation.
Prior to Metavolution, Susan worked as a management consultant at Cap Gemini in France and Ernst & Young in Canada. Before becoming a consultant, Susan enjoyed a successful career in Information Technology. She served as Director of Technology, Director of Application Services, and Director of Organisation Renewal at Canadian Pacific Rail System in Toronto.
Susan received her Bachelor and Master of Mathematics in Computer Science from the University of Waterloo; and her Master of Science in Organisation Development from the Graziadio School of Business and Management at Pepperdine University.
As a lifelong learner, Susan's additional professional development includes training in coaching from the Coaches Training Institute (CTI) and in Appreciative Inquiry from the NTL Institute in collaboration with the Case Western Reserve University. She is a Certified Professional Co-Active Coach (CPCC) and an Associate Certified Coach (ACC).
Susan is an Appreciative Inquiry practitioner and an associate of AI Consulting (AIC). She is a member of the International Coaching Federation (ICF), the International Association of Facilitators (IAF) and the European Professional Women's Network (EPWN). She consults with and coaches clients around the world.
Note: Susan is currently on a long-term contract with an aerospace company.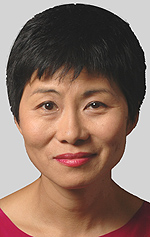 «Metavolution» represents for me continuous change and transformation of an ever higher order.
My passion is to create positive change that increases the prosperity, vitality, and sustainability of our organisations where most of us spend much of our time.
As a multi-disciplinary and multi-cultural consultant, I help clients implement complex changes that are strategic to their business successes.
--- Susan Donnan