[ You may close this window when done ]
Implementing Successful Change
A synthesis prepared by Susan Donnan, March 2006
There are staggering statistics (50-70% of projects are either failures or disappointments) and many horror stories about failed BPR, ERP, CRM, Supply Chain, and IT system implementation projects. The purpose of this article is to provide guidelines for maximising your chances of success in implementing significant process or IT system change.
An Anatomy Of Change
While there are many models for organisation and change, David Nadler's Congruence Model is useful for understanding change from a holistic perspective.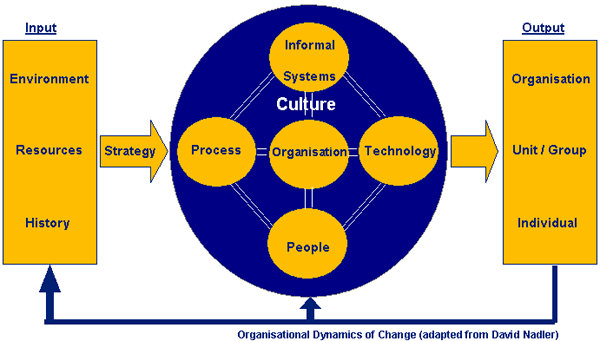 The essence of the Congruence Model is that every organisation is perfectly aligned to get the results it gets. A firm's strategy is determined by its environment, its available resources, and its history:
External fit is the alignment between the firm's environment and its strategy. It is about doing the right things: having the right products and services as well as targeting and serving the right market segments to create competitive advantage.
Internal fit is the alignment between the firm's strategy and its configuration of process, technology, people, organisation, and culture. It is about doing things right. Michael Porter defined first-order fit as simple consistency between each activity (function) and the overall strategy. Second-order fit occurs when activities are reinforcing. Third-order fit goes beyond activity reinforcement to optimisation of effort. Strategic fit among many activities is fundamental not only to competitive advantage, but also to the sustainability of that advantage.
Therefore, unsatisfactory performance at the individual, unit/group, and organisation levels are indications of either internal and/or external misalignment:
If the misalignment is internal, then it may suffice to realign the current process, structure, technology, people, and culture to improve performance.
However, if the misalignment is external, then a change in strategy is a prerequisite for improved performance.
When alignment is achieved, the components are in harmony and are mutually reinforcing. The key message here is that we cannot change one of the organisational components (e.g. process) without affecting the other components (e.g. technology and organisation). For example:
Implementing a new ERP system without redesigning the core business processes would not deliver adequate return on investment.
The implementation of redesigned business processes would be difficult without the support of enabling technology (e.g. planning for a 'pull' supply chain without a demand planning tool integrated with the ERP backbone).
The implementation of SAP/R3 usually reduces the number of clerical jobs (e.g. less record keeping and more financial analysis).
In general the higher the degree of change (e.g. discontinuous change or strategic reorientation), the greater the need to change all components simultaneously to create a new alignment. Any lack of attention to any one component is a recipe for failure. Unfortunately, while process and technology are often changed together, people, organisation, and culture are often ignored or under-managed, resulting in unsuccessful change.
Top Reasons For Project Failures
At the heart of converting strategy into action is the decision to invest in programs and projects to create something that did not exist before. Therefore, new programs and projects always create change. According to existing research, the following are some top reasons for project failures:
Lack of business ownership and management support because of weak link to business strategy and unclear business objectives.
Lack of involvement by those responsible for working with the changed processes, resulting in incomplete requirements definition and lack of buy-in.
Lack of formal project methodology or poor adherence to project methodology, resulting in poor project management and execution.
Inadequate resources allocated to the project, in terms of both competencies and manpower (e.g. lack of experience of project team, key user unable to set aside their regular job, too many part-time resources).
Poor ERP package selection and over-customisation of the software. It is much more effective to reengineer your business processes to fit the package than to customise the package to reflect your current business processes.
Overlooking the preparation of the 'people side' for the changes introduced by the new technology, resulting in lack of change readiness (e.g. a failure to build a case for change, poor communication, and inadequate training).
Poor project design and poor implementation strategy (e.g. short-cut critical events in the project plan, such as time for data migration, documentation, redefining and integrating processes, or testing before going live).
Unrealistic expectations in terms of timeline, resourcing, benefits, and return on investments.
Guidelines For Implementing Successful Change
For a project to be successful, many things have to be well orchestrated:
Strategic Alignment:

Ensure that the project is aligned with a clearly defined and well-communicated business strategy. Ideally, the project is part of a portfolio of investments for translating strategy into operations.
Ensure business ownership for the project. There must be committed and sustained management support for the project, both top and middle levels. This includes their own involvement as well as their willingness to allocate organisational resources.
Link rewards to project performance. The success of the project should be the Key Results Areas (KRA's) for all involved including the project sponsor, the project manager, the project team, the line managers, and the ultimate users.

Project Management:

Ensure that the project goals, objectives, and criteria for success are clearly defined.
Use a well-defined project methodology. Regardless of the exact methodology, the minimum requirements are activities, deliverables, milestones, and resource allocation by project phase with mechanisms to track progress and make course corrections. Any project methodology will be better than none.
Appoint an experienced project manager who has successfully implemented similar projects before.
Put in place a project governance structure to ensure effective decision making with issues escalation and resolution processes. There must be clearly defined roles and responsibilities for the project sponsor, the project steering committee, the project manager, the key users, and the line managers. For example: the key users must be empowered to make design decisions; the line managers must sign off on the intermediate and final project deliverables.
Staff the project team with dedicated internal resources and external consultants, ensuring adequate composition including the required competencies and capacity. For example, ERP projects typically require some combination of business, information technology, vendor, and consulting support.
Ensure adequate training, knowledge transfer, and facilitation for the project team so that it is a well functioning team. Highlight milestone achievements and celebrate regularly to sustain high performance.
Manage project scope and avoid scope creep by clarifying and validating requirements early in the project cycle (e.g. user involvement/participation, prototyping, iterations, simulation, signoff of intermediate deliverables etc.).
Avoid sequential decision-making and working in silos. The best way to work is to gather all stakeholders in the same room to build common understanding, to collect requirements, to solve problems, to design solutions, and to make project decisions. Above all, facilitate and foster cross-functional collaboration.

Organisational Change Management:

Use communication and involvement to create change readiness:

Communicate both strategic and tactical messages about the project, leveraging existing communication channels and forums in a timely and consistent manner.
Involve and engage key internal and external stakeholders (e.g. managers, employees, consumers, customers, suppliers, regulatory bodies etc.). Work with them one-on-on, in small groups (e.g. workshops, focus groups), and in large groups (e.g. conferences, summits). See best way to work above.

Establish a guiding coalition for change consisting of formal and informal leaders at all levels of the organisation.
Manage the people, organisation, and culture components of change. This may include:

Assessing the impact of the change.
Redesigning the organisation structure and/or the jobs.
Transitioning the organisation from where it is now to where it needs to be, potentially involving staff selection and de-selection.
Defining new competencies and new culture (i.e. mindsets and behaviours).
Training those impacted by the project on the new business processes, the new technology, the new mindsets, and the new behaviours.
Realigning personal and departmental objectives and incentives.
Changing the HR systems including performance management, reward and recognition, education and training, leadership development, recruitment, succession planning, etc. to support and reinforce the change.

Integrate change management into the project methodology. All change management activities are managed with the same rigour as any other project activities.
References
2004 Third Quarter Research Report; The Standish Group International, Inc.
Top 10 Reasons Why System Projects Fail; Paul Dorsey, Dulcian Inc.
The 12 Cardinal Sins of ERP Implementation; Richard G. Ligus
The Aligned Enterprise: Orchestrating the Next Level of Performance; IPSolutions Inc.
Champions of Change; David A. Nadler
Managing at the speed of Change; Daryl R. Conner
[ You may close this window when done ]